Enigma has thrust its hand up and asked to be counted again. I covered it a couple of posts ago and it seems I've yet to come to the end of the thread. It doesn't seem enigmatic to go from Wainui on the Akaroa Harbour that has a full time populace of about 15 people to Auckland, a city of about a million people. Though they are worlds apart I shift easily between them. Different cultures, the rural and the urban co-existing within me.
From the quiet of a rural and fishing community surrounded by the smells of the bush, songs of the birds, the vibrant spring greens of the land to the buzz and busyness of the Auckland CDB.
From simple functional food when I'm not feeding groups at YMCA Wainui to eating breakfast, lunch and dinner out. Street cafés, food courts, restaurants all calling me to taste their delights.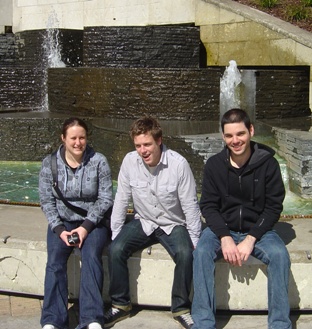 I'd planned the trip a couple of months ago to meet up with my son, Zach and daughter, Sam complete with new boyfriend Tim in Auckland to see Alice Cooper on his Theatre of Death tour. The description enigmatic was made for Alice.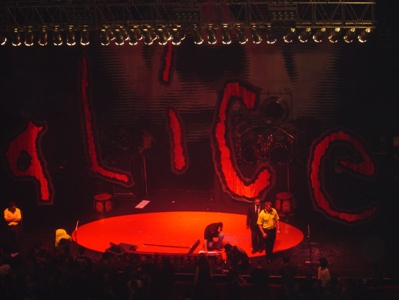 I'd heard somewhere that he led a bible study group and this was confirmed in an episode of Rove Live I'd watched a week prior to the concert. Definitely enigmatic. Then there's his passion for golf. In an interview with Peter Williams he described how golf had become his saviour after he'd committed himself to rehab. He told of waking in the morning and starting the day with a drink, a classic sign of alcoholism. He had great hand-eye co-ordination which served him well playing baseball as a child. When seeking an outlet to substitute his addiction he was drawn to golf and the hand-eye co-ordination came to the fore again. After a first lesson his coach called him a natural. He plays off a handicap of 4.
I was interested to hear him differentiate between being cured and healed of his addiction. In his shift from rehab back to everyday life with his attraction to golf he felt this was a healing rather than a cure. That there was something of a higher power involved rather than simply a cure.
An addiction healed, golf, bible study, theatre of death. All these coexisting in one person. He said something else that stuck with me in the interview as he considered the difference between his experience and that of a couple of his contemporaries whose addictions had taken their lives, "Don't become your image". He felt that in trying to live up to their images others of the rock fraternity had got lost. In projecting an image to the world it is mirrored back through the expectations of those you connect with. Are those towering buildings with mirror glass reflecting the world around them trying to tell us something?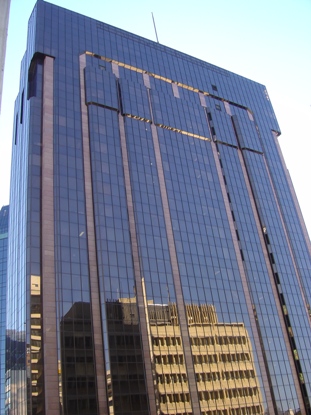 The beauty of enigma is that it poses questions. It is deeper than a simple riddle and therefore requires us to question the deeper parts of our psyche. Who am I when I let go of an image I'm hoping the world will see? Am I being all that I can be when I see Alice Cooper being all that he is? Is enigma another way of saying eccentricity?
Having said all that I'm not sure whether it was the exertions of the working week or perhaps in the midst of the raw energy of the rock performance an overstimulation of the senses but yours truly found himself wanting to close his eyes and go to sleep. Now that seems enigmatic too. I love the music of Alice Cooper and here am I wanting drift off. Strange. And it was brilliant to be a part of the experience.
Visiting Kelly Tarlton's Underwater World the following day also turned an idea I'd had about the world upside down and at the same time seemed perfect. Watching 240 kg Stingrays, the same species, one of which had sunk a barb into the chest of Steve Irwin killing him, placidly circling on the edge of the tank appearing to play up to those watching. Seeing their carer place her hand in their mouths to feed them had me feeling I'd love to get in the tank and help feed them when I'm next there. I had to ask the question and was blessed with a yes. Awesome. Curiouser and curiouser.
Not so curious but interesting was going to Victoria Park Market and expecting it to be the vibrant entity it had been been when I was living in Auckland only to find it a shadow of its former self.
And the precious – spending time with my children all grown up and doing their own thing. Looking forward to the next time we gather for an event and making a weekend of it.
Blessings