Haunted by the Future. A thought that arrived in my consciousness yesterday and started building a home. It became a foundation for a few other ideas to start creating a shell on it. I'm not sure what the structure will look like when it is finished but I'm going to enjoy standing back and look at it from time to time as parts become finished.
Those first ideas were – what am I doing in the present that is serving the future I imagine for myself? What is it about the past that is providing the this thought that I'm being haunted by my future? What have I invested in myself that I'm not reaping in the present? Still those questions that I was talking about in my last post.
I carried the "Haunted by my Future" concept as an intention with me into my day and I had a few ideas come to me as my experience of the day unfolded. The model of advertising hype presented itself. We see trailers for movies "coming soon to a theatre near you". How often does the movie not reach the expectations you inferred from watching the trailer? I create an imagining in my mind about how great the movie is going to be and then discover disappointment when it doesn't live up to the hype. At times the special effects seem to be there for their own sake rather than moving the plot forward.
Isn't it wonderful when an intention produces something that you'd never considered when you made it initially. Special Effects. What have been the SFX I have been creating for my life? There's been the courses, the workshops, the seminars, counseling, psychotherapy, coaching, shamanic studies, mainly experiential with the odd certificate thrown in for good measure. When I have been doing this I guess it is like acting in front of the green screen for a movie. I am able to have a few takes. And a few outakes. Get things wrong, get things funny. Listen to the director guiding me. Polish my performance for the grand opening.
The dream of the producers and directors haunt the futures of those involved in the movie. What is the dream of my higher self for me? Am I heading toward another box office flop as I again bring these "SFX" to a wider audience. Or is this long process of fine-tuning producing a blockbuster?
I was chatting with a friend on Facebook the other day and we were talking about our dreams and the future and she said to me that sometimes it felt as if there was a sheet of gauze covering her. It was the sense I got when I pondered that image that led to the whole "Haunted by my Future" concept. Thanks Izmet. What do we need to do to finally lift the gauze away that is obscuring the clear view of our present? Can we ever have a clear view of the future.
While this was all close to me, before I donned my checks and whites to begin my working day as a chef I had this wonderful opportunity for a photo.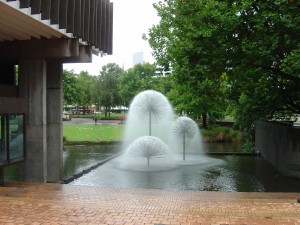 For so long this fountain was out of commission and the bare metal of the mechanism stood mute in this pool outside of the Christchurch Town Hall perhaps haunted by its future as a thing of beauty. It was the gauzy nature of the fountain's spray that had me thinking that maybe there is a haunting beauty in a future not yet arrived. As we honour the present the gifts are always within view.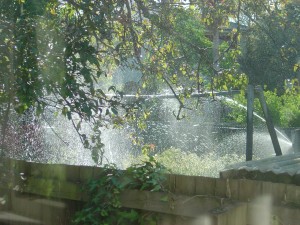 I took this photo a few years ago while I was living in one of the houses owned by the school where I was working. The photo had come to mind after I'd taken the previous one and it was another example of the beauty evoke by water's misty nature.
While waiting at the bus exchange last night after finishing work I happened to be wearing one of the shirts designed by the girls in the Boarding House when I was working at the school. A group of them walking past recognized me. It was wonderful to catch up with them and to still feel appreciated even though I'd left that job about a year and a half ago. The past has a brilliant haunting beauty as well. A perfect end to the day.
Blessings.