I visited Auckland last weekend to see "The Who" in concert. Absolutely Magic! Their last visit was about 40 years ago. Their music is expressive and powerful, laced with a virtuosity that defies description. It needs the raw experience to be fully appreciated.
Before the concert I had been able to wander the streets in what may have appeared to an observer as an aimless fashion. I feel guided and what seems random to others I know will have a purpose for me.
In my seven years in Auckland I had never entered Myers Park. When I came to the corner of Mayoral Drive and Queen Street the stairs leading down into ferns grabbed my attention. There's something soothing about the shadowy places where ferns flourish.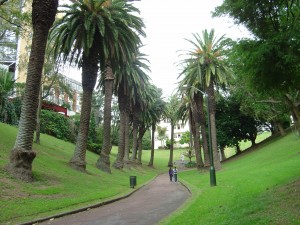 The path leads up the hill towards Karangahape Road, between these beautiful old palms. The noise of the city seems to miss this little vale and there is a quietness. Where the trees end stands the statue of Moses, a copy of Michelangelo's donated to the city by a benefactor early last century.
It seemed that this was no surprise even though I'd never visited this place before. The figure of Moses has been dogging my steps lately. I pick one of Doreen Virtue's Ascended Masters cards
most mornings before embarking on my day and the Moses card and its call to "Take Charge of this Situation" is coming up regularly. I was uncertain as to which area of my life this pertained to. And to find this physical manifestation of what had been a simple card seemed to make the message more urgent. I knew I'd have to come back the next morning. I had a concert to attend.
I got back from the concert around midnight. This allowed me enough hours sleep that I could get up earlyish and revisit the statue. As I sat and allowed impressions to come I was struck by the sternness of his look and the strength he held. Closer observation showed the tablets almost hidden from view as though to Michelangelo important to have included them without making them the most important aspect of Moses.
Some person who I guess imagined they had a sense of humour had tried to apply lipstick though not very well, and had left kiss marks on his chest and shoulder.
I allowed the power of the statue to take a hold in my psyche and then walked through the peaceful park and out onto the streets of the city. It's quite a privilege to watch a city wake up. The city seemed to be at peace with itself in the early morning, the sun, low in the sky, illuminating the faces of buildings and casting shadows. The homeless sleeping rough.
The city stretching itself as businesses open, people run, breakfasts are served and coffees fuel the populace. Little green carts with rotating brushes spruce up the footpaths, cleaning the teeth of Auckland.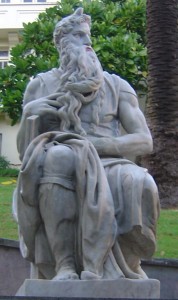 I order breakfast and my thoughts keep returning to Moses. Red lipstick. The Red Sea and the parting thereof. I vaguely remember hearing something of a natural phenomenon that may have caused this and yet there is still the power required to gather the Israelites and lead them out of an Egypt beset by plagues.
These ideas lead me back to where I'm at in my life.
What path do I need to clear in my life to lead me to the promised land?
What are the things that are plaguing me at present that I must lead myself away from?
Blessings