A wise old proverb says, "God comes to see us without bell;" that is, as there is no screen or ceiling between our heads and the infinite heavens, so there is no bar or wall in the soul, where man, the effect, ceases, and God, the cause, begins. The walls are taken away. We lie open on one side to the deeps of spiritual nature, to the attributes of God. Justice we see and know, Love, Freedom, Power. These natures no man ever got above, but they tower over us and most in the moment when our interests tempt us to wound them.
Ralph Waldo Emerson.
What if our higher selves were – at every moment seeking the most potent expression of our existence? What if it was asking us to create the reality that was in the best interests of not only humans but all the beings that inhabit Planet Earth? I know I have been procrastinating as I consider this post and what meaning there might be behind it. Procrastinating? I'm not so sure now. Every time I come back to work on this I look at it and seem to be blocked. There's just something about it that won't allow me to move forward with it. I had hoped to expand on the reference to the enneagram I left at the end of Part Two of these series of posts. I made a start and yet each time I came back to it I'd look at it and it'd look back at me and there'd be nothing going on. Uninspired – I was blocked.
The enneagram is full of complexity, follows many nuances of character. I doubt whether I would have done it justice within one post and I certainly don't have the depth of understanding that would enable me to talk intelligently and fluently over another series of posts. The enneagram is one of many great tools to use if you are seeking understanding about yourself and your motivations. I gained some insights into myself through reading and maybe if I'd dedicated myself to it I may have found a path to enlightenment. I don't know if I have some sort of spiritual attention deficit or whether I'm looking for a simpler path, but I found myself leaving that behind and seeking other ways. I'm not sure I felt it at the time but now it seems life is complex enough without following someone else's ideas about finding enlightenment. I did the reading, talked about what I found, discovered as I said in the earlier post that I sat at point five on the enneagram, and wasn't sure I liked being pigeon-holed. I guess being "the Thinker" I find it easy to get lost in ideas and the seeking of wisdom in books, while all the time it waits for me to get out there to physically embrace life and find my own wisdom through experience.
As I sit here, dealing another hand of Mah-jong, I'm visited by a spider. I seem particularly sensitive to its path across my hand. And I flick it off. Hardly exemplary behaviour seeing as I favour the Buddhist philosophy of doing no harm to any living thing.
The story of Robert the Bruce and the spider springs to mind. Robert sought the answer to whether he should continue fighting the English. What am I seeking the answer to as I follow this trail through the Sacred Wound and should I continue? Am I clutching at straws? Seems the Spider thinks I am on the right track as he has taken his leave of me.
It seems this post has been slowly coming into focus over several months, since December, in fact. And paradoxically what has now come into focus is mist. While road tripping to Mount Cook with my daughter I was touched by a synchronicity as I listened to the retelling of a Maori myth and heard a piece of native wisdom. It is said that Mt Cook or Aoraki as it called by the Maori is a place of Spiritual Enlightenment and it is hard not to be awe-struck by the grandeur of the place.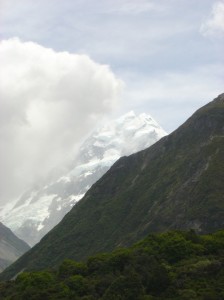 The first time I visited Aoraki I was blessed with an uninterrupted view of the mountain. This second time the weather seemed against us. From the vantage of the hotel the mountain was covered in mist. Having observed this phenomenon, the tohunga, their spiritual leaders discovered the wisdom for their chiefs of not always being available for the tribe, of having time away. Wisdom also is not in full view. It must be found in our encounters with life.
We sought a closer view the following day and were rewarded. So it is with enlightenment itself. It is said by some that we are already enlightened we just have to remember it is so. And yet sometimes the face of the mountain, the face of enlightenment is shrouded in mist. It is easy to get lost during those times, to forget we're always a spark of the divine and then to create trauma for ourselves and others, tearing open the fabric of the soul. This tear may become the sacred wound in its turn opening you or the other to the possibilities of a benevolent soul consciousness.
The myth I heard told the story of Aoraki and his three brothers, off-spring of the Sky Father – Rakinui and Maori Earth Mother, Papatuanuku. They had set sail voyaging round Papatuanuku when their canoe ran aground on a reef. They climbed on the top side of the canoe, but the wind rose from the south freezing them, turning them to stone. The canoe became the South Island, "Te waka o Aoraki". Aoraki being the tallest of the brother's, became Aoraki the mountain, and his three brothers the peaks surrounding him. The rest of the crew became the Southern Alps, the mountain range for which the South Island is famous.
As I pondered this the words of Emerson came into focus. From an enlightened perspective there are possibly no greater attributes than those he speaks of in that quote – Justice, Love, Freedom and Power. Just as those mountains tower over us so do those values. They're something to aspire to. In the routine of our lives it is easy to lose sight of these aspirations. I guess these aspirations are what bring us to study the concepts contained in the enneagram and other systems of spiritual guidance.
Each of these aspirations lies on a continuum, Justice-Injustice, Love-Fear, Freedom-Slavery, and Power-Impotence.  I feel impotent in the face of what the earthquake has wrought. I had my year mapped out – an exit strategy for my job, a move into something new. All this is on hold for now. This opened up a feeling of slavery to the job I was already in and on-going frustration with the mundane nature of the tasks ahead of me. As I read these words now I'm touched by a sense of injustice. That an earthquake can affect not only the physical, but also the mental and emotional is a testament to the power of nature. And my lot is nothing to what others have endured. It brings me back to gratitude and humility. Is it fear that holds me in place, keeping me safe until I'm ready? Or can I venture something new now, generated from the passion in my soul for transformation.
Blessings