This concept of otherness didn't seem to be present yesterday. One idea I was pondering was needing to honour this blogging process at the end of the day rather than the beginning. The idea that I'm spending half the day working on the blog of the previous day shortens the time being able to experience the intention of the current day.
This may require being more conscious of and then journaling my dreams.  Dreams haven't been embedding themselves in my awareness lately. The ones that are the most vivid I tend to remember. Then there are the smaller dreams that make a sort of cameo performance – I remember them in the morning but have forgotten them by the end of the day. I read somewhere that dreams are the psyche's way of working with what is unresolved within us. I guess the vivid dreams are the more interesting things not resolved while the 'cameo' dreams are perhaps less interesting. Both can be equally important to the unfolding of the soul journey.
Having said that I do remember a dream from early this morning. I encountered a man, a friend I worked with over 15 years ago. As well as being a chef he also had a great mind too and could quote Shakespeare and many other poets. He was a example for me that though a chef and really focused in the physical, work wise my soul could also be further nurtured through other arts as well. I hadn't been in contact with him for a few years though I was aware that he had Parkinson's disease. In early January I was informed that he had passed away late last year a shell of his former self through his struggle with the disease. I experienced him in my dream as being younger than I remember him. Vibrant, brilliant, gentle, smiling. Still with that beard that he seemed to have forever though I only knew him for a few years.
Beards seem to have become a thread in my life. In the face of the dislike of beards from family and friends I have persisted with my beard. I shave it right back when it begins to look unruly and let it grow right back again. I tell people I've just become lazy. Who knows it may be more than that. I know I'm fascinated by the Greek God Oceanus who is depicted with a beautiful beard. I encountered him when I took a shamanic journey, a guided interactive meditation, to meet my daimon. I felt his gentle and playful nature.
At times thought to be the origin of all things, this is the god of the backward-flowing river Ocean, which bounds the earth and from which all rivers flow and every sea, and all the springs and wells.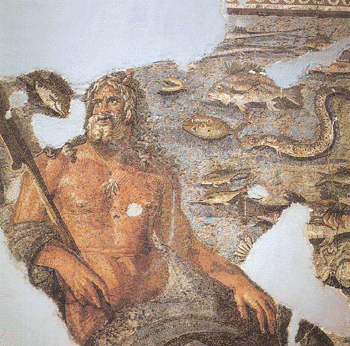 I'm fascinated by the description of the backward-flowing river. Is it about always returning to our source? Acknowledging that at times the soul journey requires a backward step? Is it about feeling the energy of Earth flowing upwards through our bodies, after all Gaia was the mother of Oceanus and so intimately connected to him.
He always seems to have a troubled, yet gentle air about him in images. That gentle quality is indicated by his refusing to enter the conspiracy of his siblings to destroy his father Uranus. There is compassion in his nature. I feel that gentle but troubledness within myself.
I mentioned the daimon in The Soul Part 2 in conjunction with this sense of otherness. The deities of any of the pantheons, Greek, Roman, Asiatic, Norse, Celtic are all originally nature deities or have evolved from them. It is when I take time to be in nature and away from my urban existence that I feel the sense of this other that is also me. This other seems totally at peace with himself.
Thomas Moore mentions something similar in his audio retreat Soul Life. He recounts a story by Mircea Eliade that when he experienced this "otherness that was also himself" there was a sense of profound happiness.
Moore also mentions W.B. Yeats who felt he'd be fencing with this other back and forth, back and forth, neither one seeming to gain ascendancy. For me that begs the question – Is there a need for any ascendancy or is it the honouring of the process that is unfolding that finally allows this other to be at peace within the psyche?
I return to not having this feeling of this otherness about me. I'm not sure whether that means that all is right with my world. Am I exactly where I need to be without needing my soul consciousness to fence with me or needing to inform my innerself that I'm essentially happy.
I noticed when I was at work that there was a difference to the atmosphere of the place. Some of the staff there the previous day weren't present. The sense of finding my feet was less and a sense of urgency had faded.  I still felt nervous and though there was less assistance at service time I managed ok, finishing earlier than I had on Saturday.
I enjoyed connecting with these new people and to feel the energy of their personalities. It takes me back to the uniqueness of each person's experience and how they contact the world. To see how they relate to each other, to listen to the banter that unfolds among them gives a sense that they're enjoying what they're doing and being together.
Blessings
Resources:
Thomas Moore
Soul Life:How to Nourish and Deepen your Everyday World. Available here
Thomas Moore's site:Care of the Soul
Greek Myth: Oceanus