I went for a walk on Monday. Banks Peninsula juts out from the East Coast of the South Island. I was hoping to reach the edge of the cliffs where I could look at an uninterrupted ocean, the wide expanse of the Pacific, an unknown horizon.
I didn't quite make it to the edge but saw it further on. I'll give myself more time when I next venture out there. The road is precarious in places and icy during the winter.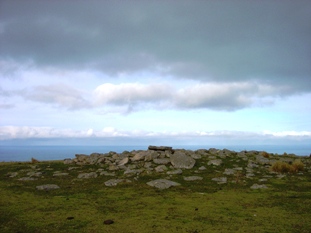 In view of the point I was surprised to receive a phone call. I didn't imagine there'd be cellphone coverage that far out. It was one of the sales managers that service the district. She rang to tell me that she was leaving the company and moving on to another firm. While I was looking at the horizon, she was seeing a new horizon in her work.
A goal is a horizon that has yet to be reached. Sometimes there is no landfall visible as we seek the goal. It is unknown and yet we set a course to where we imagine that landing point will be. As we sail outwards we may be caught in storms, tossed by seeming savage waves as we struggle to keep the boat on course. We may have to tack from side to side to make headway as we endeavour to keep going forward though we have as yet no sight of land. We may become becalmed, no wind moving us wondering, wondering, wondering…..
And when the breeze stiffens behind, rushing us forward the feeling of wind through our hair, the coolness of seaspray on our skin; the excitement of the impending landfall filling our souls.
As I set out for YMCA Wainui I wasn't aware of what was going to stir my soul there. Around the same time I was moved to read the Ringing Cedars series. The story of a woman, Anastasia, who lived in the Siberian taiga. Untarnished by living in an urban environment she has extraordinary powers honed by the embrace of living close to nature. She posits a change in the world through Russian people being given a hectare of land where they'd build what she calls a kin's domain. A place for a family to create a space of love which would enable them to feed themselves in perpetuity.
The series stretches to nine books each building on the previous one. What was proposed sat well with my heart and I began to think of ways that could be introduced here in a small way. A visit to an eco-expo further raised my expectations to what might be possible. Having a week's leave has given me a new perspective and this week I have begun to finally see some of what is already present where I am. When my focus changes I see what I had previously been blind to.
A bay tree, oregano, marjoram, parsley, silverbeet, lavender, rhubarb, rosemary. It's a start. A first landfall on a beautiful journey.
"In everyone's life, at some time, our inner fire goes out. It is then burst into flame by an encounter with another human being. We should all be thankful for those people who rekindle the inner spirit."
Albert Schweitzer
I was uncertain why I put this quote here and as I've sat with it, it seems as if he's talking about coming to edge of one's experience and and not knowing what comes next. At this edge we may well be imagining the fire is dying and we may meet another human being; but just as likely we may encounter another place, another event, book, or idea that creates a renewed enthusiasm for life.
I also get the feeling that in some way we are always coming to the edge of our world. One moment begins to fade in its significance as we begin to converge on the edge of a new moment. A different set of circumstances arises of which we need to be mindful to grasp the fullness of the experience.
There is an ecstasy in the fullness, not an effusive ecstasy but an ecstasy that secretly touches our souls with an inner and eternal knowing.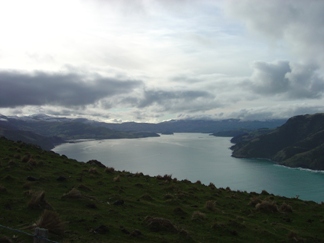 Blessings